UN-intermezzi for solo piano
Program Notes
UN-intermezzi are a set of solo piano pieces whose individual titles are taken from the novel Un-Lun Dun by the English writer, China Miéville. The story presents an alternate and parallel universe to the city of London. China's writing is so wonderfully poetic that I've stolen (with his permission!) several of his phrases. These pieces are alternate universes to other works and musicians who have inspired me.
The first, each dreams the other, is my version of the floating quality of Brahms' Intermezzo in B minor, Op. 119 no. 1. The second, somewhere very else…, is inspired by the gigue from Bach's B-flat Major Partita with its energetic bounce and hand crossing. It is dedicated to the pianist Aron Kallay. The third intermezzo, a bowl for shadows… is an homage to the whimsical style of Erik Satie, specifically his fourth Gnossienne. The canonic and climbing idea of storyladder, the fourth intermezzo, takes its idea from Ligeti's L'escalier du diable and Jeffrey Holmes' 5 Microtonal Studies iii for guitar duo. Motives from the other 4 intermezzi make guest appearances against this ascending musical ladder that is the musical representation of China Miéville's name. In the final intermezzo, a chorus of night-things, the night-things move between calm contemplation and energetic activity.
No. 5 A chorus of night-things was used by filmmaker Nana Tchitchoua https://www.youtube.com/watch?v=hMRMghn19bY
Pianist Allison Lovejoy performs No. 5 a chorus of night-things on her album
NEW NOCTURNES https://store.cdbaby.com/cd/allisonlovejoy2
Images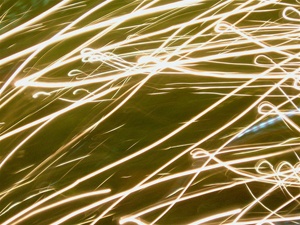 Performances
March 23, 2012

Premiere by Aron Kallay
Newman Concert Hall, USC, Los Angeles
@ Somewhere Very Else... Concert
as part of the Polish-Lithuanian Connection Festival
June 14, 2012

Jacaranda Garden Party
Aron Kallay, pianist
August 11, 2012

Cass Winery, Paso Robles
Aron Kallay, pianist
June 14, 2013

Steven Vanhauwaert, Sao Lourenco, Algarve Portugal
January 30, 2013

Tricia Dawn Williams, Malta
October 19. 2019

Aron Kallay, Los Angeles (Pacific Palisades)
Tuesdays @ Monk Space presents
Another World at the Villa Aurora
Jan 12 & 17, 2020

Pianist Michael Smith (through Bridge Arts Ensemble that frame female composers and song writers to high school students in upstate NY districts) performed Chorus of Night-things at the OESJ High School and Galway Central School in NY.